It's been a long time, so this is going to be a huge post today. Are you ready? Okay, here we go. It is good food Friday, so there's that, too. Today's good food isn't so much a recipe as a yummy combination of convenience items for those days when there's just no time to make dinner. Yesterday, for example, I was busy scrapping this page for the first event of the olympics at Brownie Scraps and didn't stop to make dinner.
Isn't that kit fabulous? It's "Get Lucky" by Flutterbye Faery Designs and Scrappin Daisies, and it was just one of the perks of the Brownie Addiction Club. This month we had a QP exchange, and this page will be offered as QP for March members. Yet another perk of the addict membership. April memberships are for sale now, so if I were you, I'd jump over there and become an addict! Here's more info: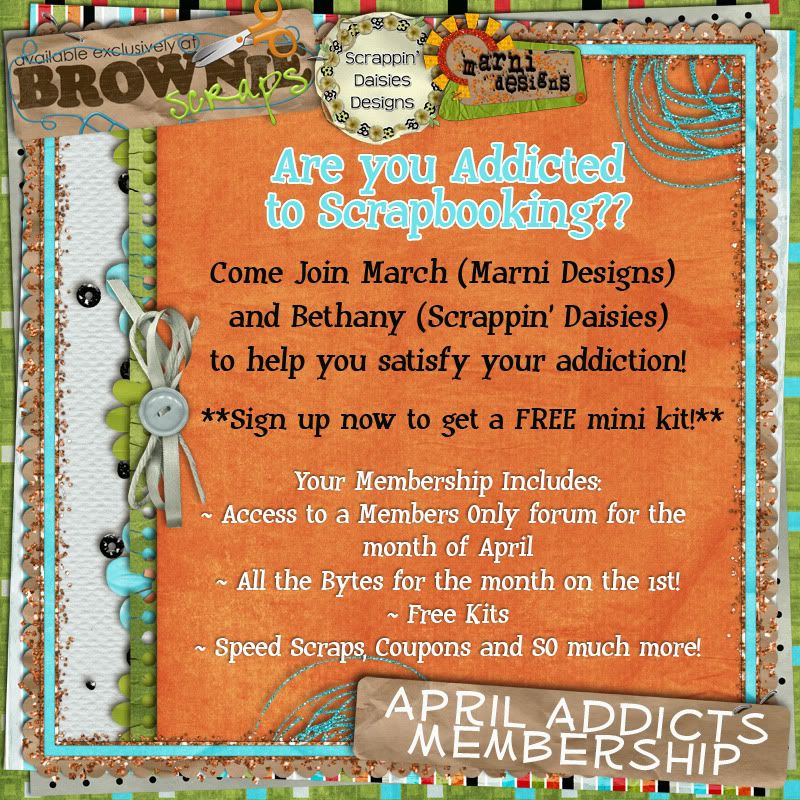 Purchase your membership before the 1st of April, and you can get this awesome membership for ONLY $6! AND you get a FREE mini just for purchasing your membership! So go
HERE
and purchase your membership before the price goes up to $9!
I also want to tell you about a fabulous deal from Marni Designs. She has not one but TWO awesome boy kits just released on Monday.
Little Buddy
and Little Boy Blue
Awesome, right? They're $6 each or you can get both together for $8!!! What a deal!!
Here are some pages I made with these great kits. I don't have any boys to scrap, and these kits were still so much fun to play with.
We're almost to the end of this massively long post. I just need to give you some links to snag those fabulous boy kits and a "recipe" for some good food today. So here are the links for these awesome kits and the whole bundle:
Oh, and everything in March's store is 38% off through Saturday, so you can save even MORE money on these fabulous kits. Seriously, you'd be nuts not to take advantage of this!! ;) And here's a quick and easy dinner you can throw together when you can't rip yourself away from your scrapping in time to cook.
Chicken Club Pizza
(Amounts are to taste - whatever you want!) Preheat oven to 425. Take a tube of refrigerated pizza crust (Pillsbury) and spread over a cookie sheet. Spread with alfredo sauce. Cover with a monterrey jack/cheddar cheese blend. Debone a rotisserie chicken, cut into chunks and spread over cheese. Take a bottle of bacon pieces (not the nasty fake stuff like Bacos, but the real bacon pieces) and sprinkle over the pizza. Bake for 15-20 minutes. While it bakes, dice an avocado, tomato and green or red onion and mix. Sprinkle that yummy mixture over the pizza when it comes out of the oven and enjoy!
And since you made it through this ridiculously long post, I'm going to throw in a QP freebie that comes from this LO I made with Marni Designs' Color Me Happy. It's also on sale for 38% off right now if you want to
hop over here and snag it
. QP download link is
here
. Enjoy!